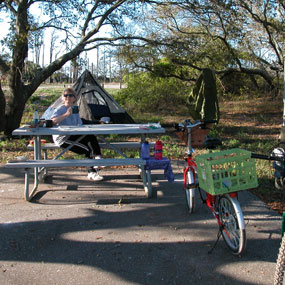 Fort Pickens Campground
Gulf Breeze FL 32561
The Fort Pickens Campground is located on Santa Rosa Island, a barrier island IN the Gulf of Mexico! The campground is a short driving distance to restaurants and beach nightlife, downtown Pensacola, the Pensacola Naval Air Station and Naval Aviation Museum, the Pensacola Lighthouse and other historic sites.
Read more
Gamble Rogers Memorial State Recreation Area
Flagler Beach FL 32136
Nestled between the Atlantic Ocean and the Intracoastal Waterway, this windswept park is named for Florida folk singer Gamble Rogers and railroad entrepreneur Henry Flagler. The beach is the most popular feature at this park, where visitors enjoy swimming, sunbathing, or beachcombing.
Read more
Mike Roess Gold Head Branch State Park
Keystone Heights FL 32656
The park contains 2300 acres of rolling sandhills and long leaf pines, with several lakes and a ravine with seepage springs cutting through the park for approximately 1.5 miles. The park is home to bald eagles, Sherman's fox squirrels, gopher tortoises, red cockaded woodpeckers, various snakes, hawks, fox, and numerous songbirds. The time for wildflower viewing is during October.
Read more
Grayton Beach State Park
Santa Rosa Beach FL 32459
Grayton Beach consistently ranks among the most beautiful and pristine beaches in the United States. The beach provides an idyllic setting for swimming, sunbathing and surf fishing and is the backdrop for golden sunrises and silver moonlit evenings. The nearly 2,000-acre park features a boat ramp that provides access to the lake's brackish waters for both freshwater and saltwater fishing. 
Read more
Gulf Air RV Resort
Fort Myers Beach FL 33931
This tropical KOA has all the comforts of home-and more- including a fantastic location on Pine Island, the "Tarpon Capital of the World." Enjoy lakeside sites, two clubhouses, a large heated pool, a spacious hot tub, a lighted tennis court and other resort amenities. Meander along the island's bicycle path, which weaves among mango groves and farms.
Read more
Gulfview RV Resort
Punta Gorda FL 33950
Pleasantly situated on Alligator Creek, you'll find immediate access to great fishing off the dock or from a boat. The sunshine and cool waters of our tranquil pool provide the perfect prescription after a long day of recreation and social events. The fun and hospitality never ends at Punta Gorda -- the only thing missing is you!  
Read more
A B C D E F G H I J K L M N O P Q R S T U V W X Y Z